Barcelona attack: What is happening? Is it terrorism? Everything we know, explained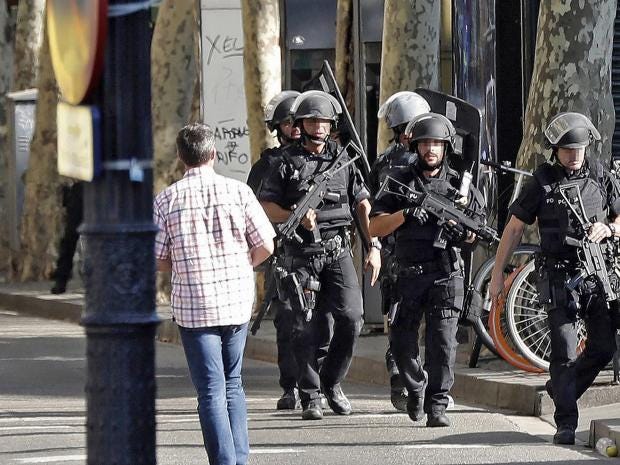 Twelve people have officially been confirmed dead and 80 more are injured after a van plowed through crowds in Barcelona's Las Ramblas district in what authorities are treating as a a terror attack.
That van wasn't the only potential assault on civilians in Spain's second largest city, either. Reports indicated that one or two armed men had also barricaded themselves inside a bar in the area after the attack, which also saw pedestrians fleeing from the streets into cafes and shops in the popular corridor of the city.
What happened?
A white van reportedly careened into a major pedestrian area, swerving back and forth in what was perceived by witnesses as a deliberate attempt to hit as many pedestrians as possible. Witnesses reported that people there screamed as the van smashed through the crowd.
"I was with my boyfriend just about to cross Las Ramblas, and all of a sudden there was an immediate stampede and police shouting at people to run," Ethan Spidey, 25, told The Independent.
"There was a stampede in the streets alongside Las Ramblas as everyone tried to run away," he continued. "People were running into shops and taking refuge in case. There was a lot of screaming."
A second van linked to the attack is said to have been found in the small town of Vic in Catalonia, according to local authorities.
How bad is the damage?
While 12 deaths have been confirmed, alongside 80 injuries, that death toll may rise. As many as 32 people were reported to have had serious injuries.
Where in Barcelona did this happen?
Las ramblas is a strip that extends from the Barcelona waterfront into the city. It is a popular destination for tourists and locals alike. The streets are lined with stalls and shops, and tends to get pretty crowded.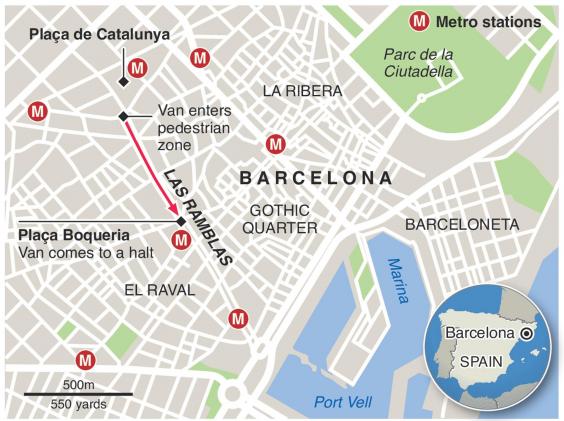 Who is responsible and why?
It's unsure at this point who is responsible for planning this attack. The explicit motive is also unclear. We do know that officials are treating this as a terrorist attack.
Police released the name and picture of a man suspected of being involved somehow, but it was not immediately clear if he was considered to be a suspect in the attack itself or if the individual had simply rented the van that was used.
Spanish television and a Catalan newspaper said that a suspect has been killed in a shoot out with police.
But, we do know that using vehicles as weapons is a particularly lethal method for attacking large groups of people. Vehicles are particularly difficult to stop, and have been used in attacks across Europe, and even the United States, with deadly consequence.
Terrorists have used vehicles to kill people in France, Germany, and Britain. The attacks don't necessarily require a lot of planning, making it difficult for authorities to see the attacks coming in time to stop them.
Is Las Ramblas particularly vulnerable?
By most accounts, there aren't a lot of obstacles there to stop an attack using a vehicle. While there are plenty of methods for cities to try and secure pedestrian areas, it does not appear that Las Ramblas was equipped to do so.
Where on Las Ramblas did this occur and what happened to the driver?
The van entered the pedestrian zone near the Plaça de Catalunya, and didn't stop until near Plaça Boqueria. The entire boulevard is 1.2 km long.
The driver was seen fleeing from the van after it came to a halt. It is unclear if he has been arrested, or if he remains at large.
How are officials responding?
Officials have boosted security around the city, and have positioned armed police at toll stations to check cars. Police have implemented terrorist protocols in response to the attack.
Meanwhile, hospitals are requesting blood donations to help care for those wounded during the attack.
What is the international community saying?
Soon after the attack, United States Secretary of State Rex Tillerson offered American help in the wake of the events in Barcelona.
Meanwhile, Mayor of London Sadiq Khan - whose city has been the recent target of terror attacks - tweeted that his "thoughts are with the victim of this barbaric terrorist attack in the great city of Barcelona and with their brave emergency serices. London stands with Barcelona against the evil of terrorism."